Watch the Hard In Da Paint video below in all its glory and check out the lyrics section if you like to learn the words or just want to sing along.
Tell us if you like it by leaving a comment below and please remember to show your support by sharing it with your family and friends and purchasing Waka Flocka Flame's music.
Lyrics to Hard In Da Paint by Waka Flocka Flame

[Talking:]
I can't forget da southside
Can't forget riverdale
I can't forget the hit squad
1017 brick squad

[Waka:]
Lebron flocka james
I go hard in da muhf**kin paint ****a

Flockaaa

I go hard in da muhf**kin paint ****a
Leave you stankin ****a
What da f**k you thinkin ****a
I won't die fo this sh*t or what da f**k I say
Front yard broad day with da sk
See gucci that's my muhf**kin ****a
I hang in da dale with them hit squad killas
Waka flocka flame one hood ass ****a
Riding real slow in the corners in my ****a

[Verse:]
Gotta main b*tch (and) got a mistress
A coupla girlfriends, I'm so hood rich
Keep my d*ck hard and keep me smoking
You get bills free shawty no joking

[Chorus:]
Aye what I stand fo
Flockaa
Brick squad
I'm a die fo dis shawty I man I swear to god
In da trap with some killas and some hood ****as
Where you at where your trap you ain't hood ****a
Featured Artist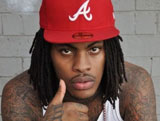 The music video for Waka Flocka Flame's single Hard In Da Paint has already been viewed 25,597 times since it was posted on Monday, July 19, 2010. The video belongs to the music genre of Hip-Hop.
Top 10 Hip-Hop Music Videos
Most Popular Hip-Hop Artists