Watch the Da Da Da video below in all its glory and check out the lyrics section if you like to learn the words or just want to sing along.
Tell us if you like it by leaving a comment below and please remember to show your support by sharing it with your family and friends and purchasing Lil Wayne's music.
Lyrics to Da Da Da by Lil Wayne

[Chorus]
Damn Damn girl you know you got it going on
you can see by the way that she walking
you so fine that your body need a body guard
well I can be your hubby
ohh your only tenderhonnie(?)
let me beam you up like Scottie
I got Whitney so just enough for everybody in this party girl

I know you want me
yeh give me that monkey
yeh that funky monkey
yeh (that funky monkey)
Bass

[Hook]
Da Da da da da
Da da da da da
(repeated)

[Verse 1]
Yep I'm in like flea Benjamin Frankalin my twin
Yah If she can't swim I gotcha girl sinkin in my Benz.
Backstroke backstroke Like Michael Phelps with my backstroke.
Break her off till her back broke I leave her numb like crack folk.
Then I get to the money Monday through Sunday. Anxiously like Honey Dew honey.
Menage A watch Honey do Honey and den they do me and I'm glad they done it.
Yah. Im wit D-R-E the n-gga that make beats wit that n-gga C-O-O-L. Cool.
We so mother f-ckin' cool-er than you.

[hook]
[Chorus]
[Hook]
Featured Artist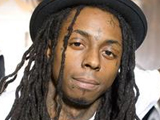 The music video for Lil Wayne's single Da Da Da has already been viewed 34,544 times since it was posted on Monday, May 31, 2010. The video belongs to the music genre of Hip-Hop.
Top 10 Hip-Hop Music Videos
Most Popular Hip-Hop Artists