Watch the Love Changes Everything video below in all its glory and check out the lyrics section if you like to learn the words or just want to sing along.
Tell us if you like it by leaving a comment below and please remember to show your support by sharing it with your family and friends and purchasing Novaspace's music.
Lyrics to Love Changes Everything by Novaspace

I was only seventeen
when he looked at me that way
seems like yesterday

I was only foolin' round
but he stole my heart away
I never been the same

I have this strangest feeling
like a raging fire it burns
he left i cried for weeks and
I can't forget him
and the lesson that I learned

* Love changes changes everything
love makes you fly, it can break your wings
love changes changes everything
love makes the rules, from fools to kings
love changes, love changes everything

Then the year went rollin' by
I grew up and moved away
Had to earn my pay
Found another lover then
but my heart is sad to say
it only ended up the same way
Featured Artist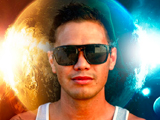 The music video for Novaspace's single Love Changes Everything has already been viewed 6,693 times since it was posted on Monday, December 28, 2009. The video belongs to the music genre of Dance.
Top 10 Dance Music Videos
Most Popular Dance Artists