Watch the Cali Love video below in all its glory and check out the lyrics section if you like to learn the words or just want to sing along.
Tell us if you like it by leaving a comment below and please remember to show your support by sharing it with your family and friends and purchasing Tyga's music.
Lyrics to Cali Love by Tyga

Tyga
California
the home of a king
the place for an angel
flyer than doves

i just wanna bring the cali love back!
sittin here thinkin when they put cali on
88 cuban gray i wasnt even born
so i just wanna keep cali on
fu*ck what happened to the cali love

cigar smoke when the legends shoot videos
snoop gettin old and Pac is really gone
so i just wanan keep cali on
fu*ck what happened to the cali love

see artists hate lovin this young artist (ME!)
critique all em
ya'll aint nothing but cheap condoms
bitch fcuk all ya'll those talking but are suportin
i hear ya sounds loud and clear your shit sound distorted
im'a pope to get on it
im the one next to best does it
remove your earpluggin i never stutter
unt-til now brother my city will now love me
if anyone be found clubbin thats time for those a hundred
young money that big boy money its nuthin
to sit and watch the sony plasma when you on it (THATS ME!)
Featured Artist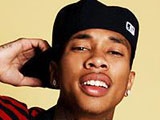 The music video for Tyga's single Cali Love has already been viewed 13,047 times since it was posted on Sunday, May 3, 2009. The video belongs to the music genre of Hip-Hop.
Top 10 Hip-Hop Music Videos
Most Popular Hip-Hop Artists