Watch the Karaoke video below in all its glory and check out the lyrics section if you like to learn the words or just want to sing along.
Tell us if you like it by leaving a comment below and please remember to show your support by sharing it with your family and friends and purchasing T-Pain's music.
Lyrics to Karaoke by T-Pain ft. DJ Khaled

(intro)
T-PAIN
dear akon ...
forgive me for what im about to say...
dear barry wize i know you told me not to worry
about it man but i cant let it ride...
dear god...
lets make it happen (ha ha ha)
ha ha im tryin ta be you n****...
ha yeah you n****
watch me do me,
watch me do me,
watch me do me,
watch me do me hey!! (nappy boy)
nappy boy

DJ KHALED:
dj khaled! hey yo pain i want you to go in

T-PAIN:
hey yo khaled lets go man (we the best) hey hey hey (listenn)
i got up out da streets so i aint gotta stealbut listen to the radioits obvious i still kill when yall was in the game way before me so why you wanna do some s*** i did in '03im layin low key (yeah)for a long time but dont act like you know methis is the wrong time so grab ya microphoine set yo auto tune an imma bust a verse on yo a** like i outta do i aint no gangsta dude aint got a poppin finger but you know im powerful when im pissin off the gospel singgas im tryin ta feed my kids yall n****s can die slowly cause to me it sound like a bunch of karaoke

DJ KHALED:
hey yo we still tha best f*** these karaoke n****s hey yo pain dey tryin to live your life man f*** these b**** a** n****s its the dj khaled nappy boy im goin in im goin in hey yo t-pain

T-PAIN:
i know you khaled i know you right know but uh let me get em' again hey hey uh listen it aint all bad some of it please me but the only n****s that cool is Kanye an lil weezy im a hit maker not a comedian so why da f*** these n****s laugh when im sing my s***
Featured Artist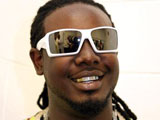 The music video for T-Pain's single Karaoke ft. DJ Khaled has already been viewed 25,095 times since it was posted on Tuesday, November 4, 2008. The video belongs to the music genre of Hip-Hop.
Top 10 Hip-Hop Music Videos
Most Popular Hip-Hop Artists