Watch the Man I'm About video below in all its glory and check out the lyrics section if you like to learn the words or just want to sing along.
Tell us if you like it by leaving a comment below and please remember to show your support by sharing it with your family and friends and purchasing Yung Chase's music.
Lyrics to Man I'm About by Yung Chase ft. Paul Wall & Slim Thug

you aint never seen a young one like this i be hop out the whip 40 thousand on my chest yea im throwin money in the wind in aint nuttn made in rain 6 times last week now its flooding i had to build a bank called chase have you beeen there yea they call it chase got my money in there i stay up in the voult chopin with the boss dont make me paul wall ya boy gotta brake them off all my money ****as wayin up ruba band up stand up dallas textas im gunna man up and what home of the lean thousand dollar jeans i thank she like my dougie (ooh that boy clen) i got a chick named dimond sittn right beside me she grabbin on the pistol and playin with my dimonds
Featured Artist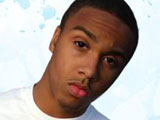 The music video for Yung Chase's single Man I'm About ft. Paul Wall & Slim Thug has already been viewed 9,256 times since it was posted on Sunday, September 14, 2008. The video belongs to the music genre of Hip-Hop.
Top 10 Hip-Hop Music Videos
Most Popular Hip-Hop Artists