Watch the G-Who video below in all its glory and check out the lyrics section if you like to learn the words or just want to sing along.
Tell us if you like it by leaving a comment below and please remember to show your support by sharing it with your family and friends and purchasing G-Fam's music.
Lyrics to G-Who by G-Fam

I go by the name of GP,

Them witches are lame

im calling them tame and they aint got nothing on me

Im upping the game

Its such a shame

Man up if your riding with me

Blacked out range

On the front page

Lime light on stage

My shopping spree's equal your whole annual wage

Cuz we be gangsters you be pranksters

Gfam street team

Flows be nice higly priced

Were only out for that cream

Im like a glass of ammaertto

So sweet your girl friends getting wetter

Ooh im better check my polo sleeveless sweater

I be the prettiest, them other chics are hideous

They cant belive the face behind the bars

You know im killing this

Im on your back like an ex smokers nichotein patch

And that's a fact your mix tape wasn't even worth the snatch

We came to put it down

You know we go that sound


Gfam Gwho?
Featured Artist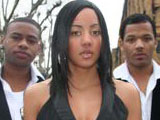 The music video for G-Fam's single G-Who has already been viewed 11,642 times since it was posted on Sunday, June 8, 2008. The video belongs to the music genre of Hip-Hop.
Top 10 Hip-Hop Music Videos
Most Popular Hip-Hop Artists