Watch the I Missed The Bus video below in all its glory and check out the lyrics section if you like to learn the words or just want to sing along.
Tell us if you like it by leaving a comment below and please remember to show your support by sharing it with your family and friends and purchasing Kris Kross' music.
Lyrics to I Missed The Bus by Kris Kross

[Kris Kross]
I missed the bus.. I missed the bus..
I missed the bus.. I missed the bus..

[Verse 1]
I went to bed late but I didn't think late would EFFECT ME
Early came around then late wouldn't LET ME
Wake up - WAKE UP - so I can get dressed
I guess my body was mad cause I gave it no rest
And when I finally did awake it was a quarter to 8:00
Jumped in the shower and I know I was late
Stepped out put on my jeans and my uni'
And said to myself if I miss school I'm ruined
But I ran down hill and I RUSHED RUSHED
I ran down the hill TRYIN TO CATCH THE BUS
Now I'm hopin to myself everything is cool
Standin on my block like a fool
But (1) I'm all alone and (2) the bus is gone
(3) if I miss school this weekend I'll be at home
Can somebody come real fast to my rescue
I'm stuck at the crib and I don't know what to do

[Hook: repeat 2x]
I missed the bus [ohh]
I missed the bus
I missed the bus [ohh]
And that is somethin I will never ever ever do again

[Verse 2]
I was up - HE WAS UP - but I laid back down
Thinkin I could chill 'til the time came around
And I did - HE DID - but a little too long
Cause when I woke up yo the bus was gone
I almost broke my neck, tryin to get out the door
And I chased the bus 'til my feet was sore
On the trail - THE TAIL - but I couldn't catch up
I guess it must have been my day for me to have bad luck
Cause I lost my lunch money, book bag busted
Scuffed up my sneakers and I'm really disgusted
And when I got to school it was the same old thing
Stepped in the class and the school bell rang
It was nothin I could do, I tried to explain
But the teacher treated me like I was playin a game
YOU LOSE YOU LOSE - the day was a no win
I learned to never miss my bus again

[Hook]
Featured Artist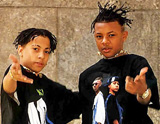 The music video for Kris Kross' single I Missed The Bus has already been viewed 7,900 times since it was posted on Thursday, May 2, 2013. The video belongs to the music genre of Hip-Hop.
Top 10 Hip-Hop Music Videos
Most Popular Hip-Hop Artists