Watch the Concrete Angel video below in all its glory and check out the lyrics section if you like to learn the words or just want to sing along.
Tell us if you like it by leaving a comment below and please remember to show your support by sharing it with your family and friends and purchasing Gareth Emery's music.
Lyrics to Concrete Angel by Gareth Emery ft. Christina Novelli

Let me breathe you in
And breathe the words in your mouth
Inside your shivering
The silence shouts so loud
I just want to
I just want to stay around
When my heart beats I promise I won't let you down

If I'm somewhere else
It doesn't mean that I don't see
That you don't trust yourself
That's why you don't trust me
It makes me crazy
When your crazy you don't speak
You think you know me
But what you know is just skin deep

If you keep building these walls
Brick by brick tower so tall
Soon I won't see you at all
'Til the concrete angel falls
I know who you are from the start
But now I don't know who you are
Soon there will be nothing at all
'Til the concrete angel falls
Featured Artist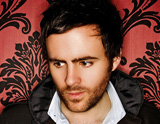 The music video for Gareth Emery's single Concrete Angel ft. Christina Novelli has already been viewed 8,913 times since it was posted on Monday, October 1, 2012. The video belongs to the music genre of Dance.
Top 10 Dance Music Videos
Most Popular Dance Artists