Watch the Zoom video below in all its glory and check out the lyrics section if you like to learn the words or just want to sing along.
Tell us if you like it by leaving a comment below and please remember to show your support by sharing it with your family and friends and purchasing Lil Boosie's music.
Lyrics to Zoom by Lil Boosie ft. Yung Joc

Lil Boosie Bad Azz
Yung Joc we got a hit lets go baby

Everybody like zoom zoom zoom zoom zoom zoom
They on them dubs like zoom zoom zoom zoom zoom zoom zoom

[Verse 1: Boosie]
I'm Boosie Bad Azz and i zoom like fire
760 patna krispy kreme on tires
Smoke that fire purple **** by the pound
Ask my dawg Webbie this is how it goes down
From my hood to yo hood mayne we makin money
N da club we poppin bottles
The room we hittin models
Rollin through the Bottom all the kids hollin Boosie
This life a ****a livin like im starrin n a movie
Fresh out the jaccuzzi lil powder on my chest
Got 30 my neck Turk and Mel jus cut the check
Naw im zoomin n my chrger on them 24's
Gotta think about Big Head and Pimp so slow ya roll
Ice cold from my neck to my wrist we gettin paid
On my feet i got them j's play wit me i got them k's
Red Gucci shades me and Joc gettin paid
naw the whole United States takin pictures all day

[Chorus:]
A fresh pair of j's i hit the stuntin
Wit a fresh pair of shades makin that money
Everbody gettin paid everything lovely and im doin my thing my thing my thing
Everybody like zoom zoom zoom zoom zoom
We on them dubs like zoom zoom zoom zoom zoom
We walk up in the club

[Verse 2: Yung Joc]
You see the way i hustle they think im Rick Ross
Jus as soon as i **** em tell them **** to get lost
A lot of ****as mad they all pissed off
If a ****a think he bad tell him jump like chris cross
im poppin ? tags cuz the wrist cost
? shell how to break a soft
Just ask my ****a Boosie he tell u wat it iz
Face card good cuz the face card trill
If u gotta problem i suggest u head home
He in the red zone **** leave ya head gone
Don't hit me on my chirp thats the fed phone
Talkin bout the work u dead wrong
Can't believe i keep them beans for them **** tell em dreams
Ain't no **** on my team
Like my clothes crispy clean
I like my dough Krispy kreme
64 on lean
thats my ****a mouse and turk and got the work for the fiends

[Chorus]

[Verse 3: Boosie]
Mayne i been zoomin n my drop top mobbin through the city
Fresh fade fresh j's wit 2 bad bit****
One name sarah one name tina
together they make weather like katrina (they a fool)
shawty red she a rough rider
she get on back of that motorbike and all u c iz back on that motorbike
I drive fastcars
They call me nascar
You feel me but im in love wit the hemi
Get retarded n ferraris i get loose in the coupe paranoid like pac so i keep that glock
when i zoom zoom and after that lets get a room room (im VIP)
i need a dime piece
a fine freak get on back
u could ride on the back or n tha lac (ha bro)
naw we got everybody zoomin
the lil kids zoomin look u got a hit Boosie

[Chorus]
Featured Artist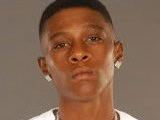 The music video for Lil Boosie's single Zoom ft. Yung Joc has already been viewed 33,799 times since it was posted on Thursday, October 19, 2006. The video belongs to the music genre of Hip-Hop.
Top 10 Hip-Hop Music Videos
Most Popular Hip-Hop Artists