Watch the Only If I video below in all its glory and check out the lyrics section if you like to learn the words or just want to sing along.
Tell us if you like it by leaving a comment below and please remember to show your support by sharing it with your family and friends and purchasing Kate Ryan's music.
Lyrics to Only If I by Kate Ryan

Happy days pass by much faster
As every single moment that I spent with you
Somehow we let our feelings die
Slipping away without a try
Bring me back to when we met
Let's start all over

Chorus
If I could turn back time I know I'd
Do it again - Do it all again, oh
'Cause you were the summer of my life
Only if I
Could turn back time I know I'd
Give it again - Give my love again, oh
Memories that keep me warm inside
Only if I

Could seize yesterday tomorrow
And say the things
You've never heard from me before
I could have loved you once again
Only a heart cannot forget
Bring me back to where we met
Let's start all over

Chorus
Featured Artist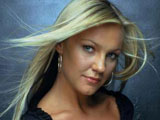 The music video for Kate Ryan's single Only If I has already been viewed 10,946 times since it was posted on Thursday, July 28, 2005. The video belongs to the music genre of Dance.
Top 10 Dance Music Videos
Most Popular Dance Artists