Watch the Party Rock Anthem video below in all its glory and check out the lyrics section if you like to learn the words or just want to sing along.
Tell us if you like it by leaving a comment below and please remember to show your support by sharing it with your family and friends and purchasing LMFAO's music.
Lyrics to Party Rock Anthem by LMFAO ft. GoonRock & Lauren Bennett

Chorus

Parry rock is in the house tonight
Everybody just have a good time
And we're gonna make you lose your mind
Everybody just have a good time/We just wanna see you
(repeats)

Shake that

In the club
Party rock
Met a pretty girl
See on the Jack
Now stop
When we hit the spot
Bootty move away
Like she own the block
.. a drink
I got to know
.. gain the money
...

I'm running to this .. like .. I got that devilish flow
Rock and roll
We party rock
Yeah that's the cool that I am ..to the top
No worry or ....

Chorus

Every day I am shuffling

Step up fast
And be the first girl .. as Cash
Don't be made now stop
.. is back
More shuffle for us
Please fill up the cup
We just want to see
Now you are home with me
We make it now

Get up get down
Put your hands up to the sound
(repeats)

Get up (repeats)

Chorus

Every day I am shuffling

Put your (repeats)
Featured Artist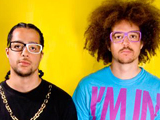 The music video for LMFAO's single Party Rock Anthem ft. GoonRock & Lauren Bennett has already been viewed 98,672 times since it was posted on Thursday, March 10, 2011. The video belongs to the music genre of Hip-Hop.
Top 10 Hip-Hop Music Videos
Most Popular Hip-Hop Artists