Watch the Coming Undone video below in all its glory and check out the lyrics section if you like to learn the words or just want to sing along.
Tell us if you like it by leaving a comment below and please remember to show your support by sharing it with your family and friends and purchasing koRn's music.
Lyrics to Coming Undone by koRn

Keep holding on
When my brain's tickin' like a bomb
Guess the black thoughts have come Again to get me
Sweet bitter words
Unlike nothing I have heard
Sing along mocking bird
You don't affect me

That's right
Deliverance of my heart
Be straight
Be deliberate

[Chorus]
Wait
I'm coming undone
Unlaced
I'm coming undone
Too late
I'm coming undone
What looks so strong
So delicate
Wait
I'm starting to suffocate
And soon I anticipate
I'm coming undone
What looks so strong
So delicate

Choke choke again
I find my demons were my friends
Getting me in the end
They're out to get me
Since I was young
I've tasted sorrow on my tongue
And this sweet chugga gun
Does not protect me

That's right
Trigger between my eyes
Please strike
Make it quick now

[Chorus]

I'm trying to hold it together
Head is lighter than a feather
Looks like i'm not getting better
Not getting better

[Chorus]
Featured Artist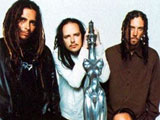 The music video for koRn's single Coming Undone has already been viewed 8,184 times since it was posted on Friday, March 3, 2006. The video belongs to the music genre of Rock.
Most Popular Rock Artists