Watch the Kristy, Are You Doing Okay? video below in all its glory and check out the lyrics section if you like to learn the words or just want to sing along.
Tell us if you like it by leaving a comment below and please remember to show your support by sharing it with your family and friends and purchasing The Offspring's music.
Lyrics to Kristy, Are You Doing Okay? by The Offspring

There's a moment in time
And it's stuck in my mind
Way back, when we were just kids

Cause your eyes told the tale
Of an act of betrayal
I knew that somebody did

Oh, waves of time
Seem to wash away
The scenes of our crimes
But for you this never ends

Can you stay strong?
Can you go on?
Kristy are you doing okay?
A rose that won't bloom
Winter's kept you
Don't waste your whole life trying
To get back what was taken away

Though the marks on your dress
Had been neatly repressed
I knew that something was wrong
And I should have spoke out
And I'm so sorry now
I didn't know
Cause we were so young

Oh, clouds of time
Seem to rain on
Innocence left behind
And it never goes away
Featured Artist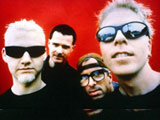 The music video for The Offspring's single Kristy, Are You Doing Okay? has already been viewed 8,030 times since it was posted on Monday, February 2, 2009. The video belongs to the music genre of Rock.
Most Popular Rock Artists