Watch the Down video below in all its glory and check out the lyrics section if you like to learn the words or just want to sing along.
Tell us if you like it by leaving a comment below and please remember to show your support by sharing it with your family and friends and purchasing blink-182's music.
Lyrics to Down by blink-182

The drops of rain they fall all over
This awkward silence makes me crazy
The glow inside burns light upon her
I'll try to kiss you if you let me
(This can't be the end)

Tidal waves they rip right through me
Tears from eyes worn cold and sad
Pick me up now
I need you so bad

Down down down down
Down down down down
Down down down down
Down down down down
It gets me so

Your vows of silence fall all over
The look in your eyes makes me crazy
I feel the darkness break upon her
I'll take you over if you let me
(You did this)
Featured Artist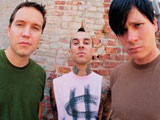 The music video for blink-182's single Down has already been viewed 15,270 times since it was posted on Monday, August 22, 2005. The video belongs to the music genre of Rock.
Most Popular Rock Artists