Watch the Forever video below in all its glory and check out the lyrics section if you like to learn the words or just want to sing along.
Tell us if you like it by leaving a comment below and please remember to show your support by sharing it with your family and friends and purchasing Papa Roach's music.
Lyrics to Forever by Papa Roach

In the brightest hour of my darkest day
I realized what isw rong with me
Can't get over you. can't get through to you
It's been a helter-skelter romance from the start
Take thses memories that are Haunting me
Of a paper man cut into shreds by his own pair of scissors
He'll never forgive her...he'll never forgive her...
Because days come and go but my feelings for you are forever
Sitting by a fire on a lonely night
Hanging over from another good time
With another girl... little dirty girl
You should listen to this story of a life
You're my heroine-in this moment i'm lonely fulfilling my darkest dreams
All these drugs all these women
I'm never forgiven..this broken heart of mine
One last kidd before i go
Dry your tears, it is time to let you go
One last kiss
Featured Artist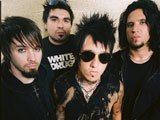 The music video for Papa Roach's single Forever has already been viewed 21,651 times since it was posted on Thursday, January 18, 2007. The video belongs to the music genre of Rock.
Most Popular Rock Artists