Watch the Fall Behind Me video below in all its glory and check out the lyrics section if you like to learn the words or just want to sing along.
Tell us if you like it by leaving a comment below and please remember to show your support by sharing it with your family and friends and purchasing The Donnas' music.
Lyrics to Fall Behind Me by The Donnas

CHORUS:
You're gonna fall behind me
You're gonna cry and beg for mercy
'Cause you're not ready baby
And you got nothing on me

Now that I'm getting to know her
Part of me wants to show her
Who she's really screwing over

'Cause she's got nothing real
Taking everything that she can steal
Just like it was her last meal

CHORUS (x1)

How long is she gonna be around ?
How long do we have to watch her dumb it down ?
'Cause when it's cheap it fades fast
How lond does she think it's gonna last ?

CHORUS (x1)

And you got nothing on me
And you got nothing on me
And you got nothing on me
And you got nothing on me
Featured Artist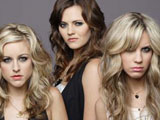 The music video for The Donnas' single Fall Behind Me has already been viewed 7,781 times since it was posted on Tuesday, January 9, 2007. The video belongs to the music genre of Rock.
Most Popular Rock Artists