Watch the I Run To You video below in all its glory and check out the lyrics section if you like to learn the words or just want to sing along.
Tell us if you like it by leaving a comment below and please remember to show your support by sharing it with your family and friends and purchasing Lady Antebellum's music.
Lyrics to I Run To You by Lady Antebellum

I run from hate
I run from prejudice
I run from pessimists
But I run too late
I run my life
Or is it running me
Run from my past
I run too fast
Or too slow it seems
When lies become the truth
That's when I run to you

Chorus
This world keeps spinning faster
Into a new disaster so I run to you
I run to you baby
And when it all starts coming undone
Baby you're the only one I run to
I run to you

We run on fumes
Your life and mine
Like the sands of time
Slippin' right on through
And our love's the only truth
That's why I run to you

Repeat Chorus X 2
Featured Artist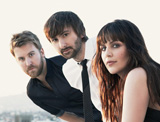 The music video for Lady Antebellum's single I Run To You has already been viewed 7,800 times since it was posted on Sunday, August 1, 2010. The video belongs to the music genre of Country.
Top 10 Country Music Videos
Most Popular Country Artists