Watch the La Vida Es Asi video below in all its glory and check out the lyrics section if you like to learn the words or just want to sing along.
Tell us if you like it by leaving a comment below and please remember to show your support by sharing it with your family and friends and purchasing Ivy Queen's music.
Lyrics to La Vida Es Asi by Ivy Queen

He recibido una llamada Me dijeron que te vieron
No quiero peros tampoco celos
Guarda tu escena no me des excusas pa
No voy a escuchar así que cálmala

Ya lo se todo me dijeron de ella
Me dijeron su vida y en verdad me dan pena
Si tu te crees que con mis brazos
Cruzados yo me quedare

Me miro al espejo
Me peino y me maquillo
Un vestido corto sabes lo que te digo
Me montare en mi carro por que se su dirección
Que aguante presión de este mujeron!

Hola! atrevida yo te traigo una noticia
Y por eso es mi sonrisa Te la daré sin prisa
El hombre con quien sales es mío y tú lo sabes!
Pero aquí esta el detalle en la cama no vale...

Por eso vine a felicitarte
De lo que me libraste
Y tengo que confesarte
Mientras toman su tiempo
Yo a alguien estoy viendo
Un hombre de verdad y no la basura que yo tengo

La vida es así
Si la sobras de otra te hace a ti feliz
Aquí esta el detalle
Yo te lo regalo por todo el sufrimiento
Y el daño que a causado

La vida es así
Ahora grito a viva voz que con alguien soy feliz
Alguien que me consiente
Me trata diferente me lleva de su mano
Me dice lo que siente

Para tus escusas que yo tengo otra
Te callare la boca y coge lo que te toca
Lo que aqui se hace se tiene que pagar
No me distes mi lugar no tienes que regresar
Featured Artist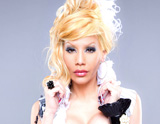 The music video for Ivy Queen's single La Vida Es Asi has already been viewed 136,126 times since it was posted on Tuesday, June 29, 2010. The video belongs to the music genre of Latin.
Top 10 Latin Music Videos
Most Popular Latin Artists