Watch the Electro Movimiento video below in all its glory and check out the lyrics section if you like to learn the words or just want to sing along.
Tell us if you like it by leaving a comment below and please remember to show your support by sharing it with your family and friends and purchasing Calle 13's music.
Lyrics to Electro Movimiento by Calle 13

toca, toca,toca

Tu estas coqueta yo estoy coqueto
tu y yo hacemos un buen dueto
tu eres una loca y yo soy un demente
contigo me quedo hasta q se me caigan los dientes
te tengo una propuesta sencilla
vamos a mezclarnos como pan con mantequilla
como refrito con guacamole
bien mezclado como arroz con frijoles
nosotros nacimos con las piernas suelta
vamonos atras pa los años 80
pa cuando Madonna era virgen
y Jhon Travolta en el piso daba vueltas
un mundo de colores fluorencentes
si preocupaciones en la mente
yo lo que quiero es un besito tuyo caliente para que se desaparesca la gente

Por ti yo hago lo que sea
por ti peleo contra 300 ninjas en Corea
por ti pesco 500 delfines y cruzo la cordillera de los Andes en patines

Que? yo no entiendo lo q estas diciendo
yo espero q no me estes maldiciendo
si tu me dejas y me das permiso
podemos tener hasta trillizos
te quiero hacer volar como Peter Pan
por encima del viejo San Juan
despues te recito 30 serenatas bajo la luz de la luna
al lao de una fogata

Yo te traigo musica con electro magneto
para q muevas to el esqueleto
musica hecha con buena onda
pa que brinque como pop corn de microondas
yo lo que quiero es pierdan el control
q fumen y mezclen pepas con alcohol
to el mundo salvaje welcome to the jungle

Homosexuales lesbianas bisesuales
bestiaiistas pedofilos heterosexuales
bailondo el electromovimiento
pa bailar esto no tienes q tener talento
to el mundo con el paso del robot
to el mundo con el paso del robot
to el mundo con el paso del robot
to el mundo en la disco bailando guey
Featured Artist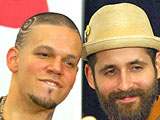 The music video for Calle 13's single Electro Movimiento has already been viewed 8,982 times since it was posted on Monday, January 26, 2009. The video belongs to the music genre of Latin.
Top 10 Latin Music Videos
Most Popular Latin Artists