Watch the Love video below in all its glory and check out the lyrics section if you like to learn the words or just want to sing along.
Tell us if you like it by leaving a comment below and please remember to show your support by sharing it with your family and friends and purchasing Sugarland's music.
Lyrics to Love by Sugarland

Is it the face of a child
Is it the thrill of danger
Is it the kidness we see in the eyes of a stranger
Is is more than faith
Is is more than hope
Is is waiting for us at the end of our rope

Chorus:
I say, it's love
I say, it's love

Is it the one you call home
Is it the Holy Land
Is is standing right here holding your hand
Is it just like the movies
Is it rice and white lace
Is it the feeling I get when I wake to your face

Repeat Chorus

Is it the first summer storm
Is it the colors of fall
Is it having so little
And yet having it all
Is it one in a million
Is it a change to belong
Is it standing right here singing this song

Repeat Chorus 4x

Is it a veil or a cross
Is it the poet's gift
Is it the face that has launched over thousands of ships

Is it making you laugh
Is it letting you cry
Is it where we believe that we go when we die
Is it how you were made
Is it your mother's ghost
Is it the wish that I'm wishing for you life, for your life, for your life the most
Featured Artist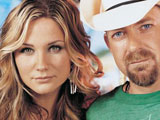 The music video for Sugarland's single Love has already been viewed 8,936 times since it was posted on Tuesday, December 23, 2008. The video belongs to the music genre of Country.
Top 10 Country Music Videos
Most Popular Country Artists