Watch the Love Don't Live Here video below in all its glory and check out the lyrics section if you like to learn the words or just want to sing along.
Tell us if you like it by leaving a comment below and please remember to show your support by sharing it with your family and friends and purchasing Lady Antebellum's music.
Lyrics to Love Don't Live Here by Lady Antebellum

Well this heart of mine has been hardened like a stone
It might take some time to get back what is gone
But I'm movin' on and you don't haunt my dreams
Like you did before oh when I would curse your name

Well I heard the news that you were back in town
Just passin' through to claim your lost and found
But I'm over you and there ain't nothin' that
You could say or do to take what you did back
Well you got nerve to waltz right in
And think what's mine is yours again

[Chorus]
Cause I've been doin' fine without you
Forgettin' all the love we once knew
And girl I ain't the one who slammed that door
But now you say you've changed your thinkin'
But I ain't got a heart for breakin'
So go and pick your bags up off my floor
Oh cause love don't live here anymore

Well baby you can try to tell me how it is
And try to justify everything you did
But honey I'm no fool and oh I've been down this road
Too many times with you I think it's best you go
Well I got one thing left to say
Is you can lay in the bed you've made

[Repeat Chorus]

Oh no that love don't live here anymore
Oh no, no
Sugar no, no
And you don't live here anymore
Love don't live here anymore
And since you walked out of my door
Love don't live here
Love don't live here girl
Oh love don't live here anymore
Featured Artist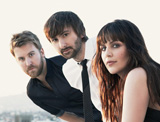 The music video for Lady Antebellum's single Love Don't Live Here has already been viewed 12,853 times since it was posted on Sunday, July 6, 2008. The video belongs to the music genre of Country.
Top 10 Country Music Videos
Most Popular Country Artists