Watch the Antologia video below in all its glory and check out the lyrics section if you like to learn the words or just want to sing along.
Tell us if you like it by leaving a comment below and please remember to show your support by sharing it with your family and friends and purchasing Shakira's music.
Lyrics to Antologia by Shakira

para amarte necesito una razon
y es dificil creer que no exista
una mas que este amor
sobra tanto dentro
de este corazon
que a pesar de que dicen
que los anos son sabios
todavia se siente el dolor
porque todo el tiempo
que pase junto a ti
dejo tejido su hilo dentro de mi
y aprendi a quitarle al tiempo
los segundos tu mi hiciste
ver el cielo aun mas profundo junto
a ti creo que aumente mas de
3 kilos con tus tantos
dulces besos repartidos
dessarollaste mi sentido
del olfato y fue por ti que
aprendi a querer los gatos
despegaste del cemento
mis zapatos para escapar
los dos volando un rato.
pero olvidaste una final
instruccion porque aun
no se como vivir sin tu amor
y descubri lo que
significa una rosa
me ensenaste decir
mentiras piadosas
para poder a verte
a horas no adecuadas
y a reemplazar palabras
por miradas
y fue por ti que escribi mas
de 100 canciones
y hasta perdone tus
equivocaciones
y conoci mas de mil formas de besar
y fue por ti que descubri
lo que es amar
lo que es amar...
Featured Artist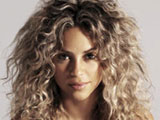 The music video for Shakira's single Antologia has already been viewed 12,707 times since it was posted on Thursday, December 15, 2011. The video belongs to the music genre of Latin.
Top 10 Latin Music Videos
Most Popular Latin Artists