Watch the Fuerte / Bajo Otra Luz video below in all its glory and check out the lyrics section if you like to learn the words or just want to sing along.
Tell us if you like it by leaving a comment below and please remember to show your support by sharing it with your family and friends and purchasing Nelly Furtado's music.
Lyrics to Fuerte / Bajo Otra Luz by Nelly Furtado ft. Mala Rodriguez

No quiero llorar. No quiero sufrir No quiero pensar.
Me hara recordar que yo te perdí. Tan lejos de mí haz ido a parar ah

Un poco de ti Un poco de mi
Dejara de hablar de comunicar
No pude encontrar palabras de amor
Y no alcance amar

Déjalo conmigo dejame el olvido
Porque asi consigo salvar mi dignidad
Déjalo conmigo dejame el olvido
Que yo en mi camino seguire

[Chorus]
Siendo Fuerte

Que me importa lo que digan
Lo que piense tanta gente (Fuerte)
Si tu crees que tu puedes
No escuches las dudas sigue siendo fuerte (Siendo Fuerte)
Muestrate indiferente
Ante lo oscuro y el miedo (Fuerte)
Cuando busques el consuelo
Recuerda el valor es lo primero



¿Qué pasa?
Julieta
aha
Nelly
aha
La Mala
yeah

[Nelly Furtado]

Hay algo que va a suceder. Nose que es
Se desprende toda sensacion que no puedo ver
Será que el sol esta brillando distinto a lo acostumbrado
En la mañana, esta mañana

Lo que antes me afectaba ya no me dice tanto
Alguien quien alguna vez ame se ha ido borrando
Sera la vida que se yo?
Casualidad pense en mi voz Te fui llamando llamando

[Chorus]
Sere yo o serás tú
Todo esta tan diferente eres tú
Sere yo o seras tú
Todo parece puesto bajo otra luz

[Nelly Furtado]

No supe qe es qe llegue a este momento
Donde escucho el tono de tu voz y voy corriendo
Será que estoy enamorandome sin querer
Nose bien nose bien

[Chorus]

El color de mi vida cambio desde que tu llegaste (x4)

[La Mala]

Nene puedo saltar al vacio
Y liberarme de lo qe se supone que es mio
Lo miro eternamente en un coño mollido
Sin reparar en la lucha que existe ma
Bajo otra luz me encuentro
Y es dificil de olvidarme
De que vine pa quedarme
Sin temor a enamorarme
Y allegandome como semilla que busca calor

[Chorus]

El color de mi vida cambio desde que tu llegaste (x4)

El color de mi vida cambio desde que tu llegaste (x8)
Featured Artist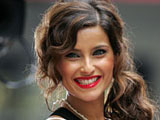 The music video for Nelly Furtado's single Fuerte / Bajo Otra Luz ft. Mala Rodriguez has already been viewed 4,603 times since it was posted on Sunday, November 14, 2010. The video belongs to the music genre of Latin.
Top 10 Latin Music Videos
Most Popular Latin Artists