Watch the All I Really Want video below in all its glory and check out the lyrics section if you like to learn the words or just want to sing along.
Tell us if you like it by leaving a comment below and please remember to show your support by sharing it with your family and friends and purchasing Rick Ross' music.
Lyrics to All I Really Want by Rick Ross ft. The-Dream

Every time i call she just come
cuz every time i call she get the cum
damn I'm a lover here look what this chick done
when i used to keep a roll of them bitches like which one

she graduated from the school of arts
now she swimming in a pool of sharks
roughest sneakers with the coolest cost
sophomore year had a first monage
better D.C like go Barack
girl drunk like a figi and she blow my socks
every night she calling me to come **** that
found out she had a man that know how to **** that
better give that boy a bus pass
i see no competition baby girl i must have
Featured Artist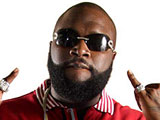 The music video for Rick Ross' single All I Really Want ft. The-Dream has already been viewed 15,075 times since it was posted on Friday, May 8, 2009. The video belongs to the music genre of Hip-Hop.
Top 10 Hip-Hop Music Videos
Most Popular Hip-Hop Artists