Watch the In Regards To Myself video below in all its glory and check out the lyrics section if you like to learn the words or just want to sing along.
Tell us if you like it by leaving a comment below and please remember to show your support by sharing it with your family and friends and purchasing UnderOath's music.
Lyrics to In Regards To Myself by UnderOath

Wake up wake up my God this is not a test
And it's not too late to come clean
Get it off your chest
So steady your hand before your face and concentrate
There's got to be some stable ground left to walk on

So tear another page from the book
Are you asleep or just alone
Clear this room from your lungs
And pull yourself together man

On your back, you're sleeping in a bed of shame
Let the light breathe some new life into this room
It's what keeps you coming back
Made up of insatiable taste
Bury your head in your hands and sink into yourself

Just what are you so afraid of
You're staring truth in the face, so come on down

You're busy living now aren't you
You're busy making vows
You're coming unglued
Time is shorter than you know
I know the light is blinding to the naked eye
So why don't you take steps away from being alone
I swear it's not too late for you

It's all worth reaching for the hand to pull you out
Wake up and step outside your box
Wake up
Featured Artist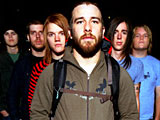 The music video for UnderOath's single In Regards To Myself has already been viewed 6,209 times since it was posted on Wednesday, August 6, 2008. The video belongs to the music genre of Metal.
Top 10 Metal Music Videos
Most Popular Metal Artists