Watch the Aesthetics of Hate video below in all its glory and check out the lyrics section if you like to learn the words or just want to sing along.
Tell us if you like it by leaving a comment below and please remember to show your support by sharing it with your family and friends and purchasing Machine Head's music.
Lyrics to Aesthetics of Hate by Machine Head

You tried to spit in the eye
of a dead man's face
Attacked the ways of a man
not yet in his grave
But your hate was over all too soon
Because nothing is over
and nothing's through
'Til we bury you

Chorus:
For the love of brother
I will sing this ****ing song
Aesthetics of hate
I hope you rot in hell

The words I read on the screen
left me ****ing sick
I felt the hatred rising
you son of a bitch
You branded us pathetic for our respect
But he made us Driven, deep reverence
Far Beyond the rest

(Chorus)

Long live memories
Live his freedom vicariously
Defend tenfold,
his honor we'll always uphold

For the love of brother
I will say these ****ing words
No silence against ignorance
Iconoclast, I hope you burn in hell

May the hand of God strike them down
Featured Artist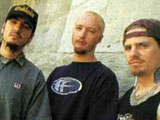 The music video for Machine Head's single Aesthetics of Hate has already been viewed 13,920 times since it was posted on Monday, May 21, 2007. The video belongs to the music genre of Metal.
Top 10 Metal Music Videos
Most Popular Metal Artists