Watch the Abandon Ship video below in all its glory and check out the lyrics section if you like to learn the words or just want to sing along.
Tell us if you like it by leaving a comment below and please remember to show your support by sharing it with your family and friends and purchasing Gallows' music.
Lyrics to Abandon Ship by Gallows

Mayday Mayday
The captain lost control again
The ****ing ship is breaking up
We're going down in flames

Mayday Mayday
Man overboard again
The sharks already circling
They only eat the brave
The SS death lost everything
No-one here can ****ing swim
So baby baby hold me tight
While i drown myself in you tonight

Mayday Mayday
The ship has hit the rocks again
This isnt going to ****ing work
We're heading to our graves

Mayday Mayday
The captain's lost his way
We're sinking in the river sticks
No-one can escape

Ladies and Gentlemen
May i have your attention please
This is the captain of your ship
I'm sorry we deport this way
You left me broken hearted
But i never loved you anyway
Featured Artist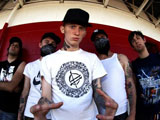 The music video for Gallows' single Abandon Ship has already been viewed 10,577 times since it was posted on Friday, May 18, 2007. The video belongs to the music genre of Metal.
Top 10 Metal Music Videos
Most Popular Metal Artists