Watch the Dirty Money video below in all its glory and check out the lyrics section if you like to learn the words or just want to sing along.
Tell us if you like it by leaving a comment below and please remember to show your support by sharing it with your family and friends and purchasing Nicki Minaj's music.
Lyrics to Dirty Money by Nicki Minaj

i don't wanna sound mad though
i don't wanna sound mad
i feel marvelous right now
dirty money

tell the bitch with the crown to run it like chris brown
round three round i'ma need a hundred down
like china town bitch is better ..down
oh you ain't know bet the bitches know now
**** i gotta let em know that i'm the one
way i ride the drum. they salute me in the slum
in the six hun' the color the bubble gum
i'm with the ****a spits and with my ****a bit crum
yes i'm the one i'm the mother ****ing one
hold more weight than the late big pun
bitches talk slip but they ain't sayin none
man 'cause i'm bad two sticks in my bun
yes sir look what i've done
they run run run when i come
i'm stickin with ..let me tell you where i'm from
please little mama ..
Featured Artist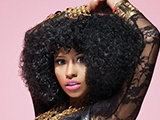 The music video for Nicki Minaj's single Dirty Money has already been viewed 20,391 times since it was posted on Monday, February 20, 2012. The video belongs to the music genre of Hip-Hop.
Top 10 Hip-Hop Music Videos
Most Popular Hip-Hop Artists