Watch the The Last Crown (Intro) video below in all its glory and check out the lyrics section if you like to learn the words or just want to sing along.
Tell us if you like it by leaving a comment below and please remember to show your support by sharing it with your family and friends and purchasing Soulja Boy Tell'em's music.
Lyrics to The Last Crown (Intro) by Soulja Boy Tell'em

The last crown
SOD y'all

it's right here for my ****as on the block
got the whole little high trap it in on back.

Is right here for them ****as on their block
Post it on got the whole hood high
Trap it white squares ..of walking line
2012 cut bare with the glod,
no stress way God i'll be solo
Allabout my dolo sleep back like Toto
Five case on me man you know where it be
SOD gang on the mother f*cker G
Grind through my hood ****as wanna feeling me
you're not my enemy they came to make a tragedy
soldier boy tell em on the mother f*cker problem
****a tell em one thing what's the profit to a ..
'cause i'm .. with your ..be up in Miami
bad bitches on me got em posted by the castle
little Drake ..go back .. bitches ..thye kick you for a ..
nigag know what i'll be at .. kilo
Money at the day got those bitches ..
Cake cock bake hit the ****a in this .. taking over ****a tempo
Grind through my .. i got the .. shoot you in the back on
**** you with my ****as you know we get paid
Got my whole bottle ..go ..
Put the money in your face i met the VMA's
Getting so much money soldier boy across the stairs
..****a thought that she was going down till i out on to the trap
They all call my sound 2012 deadly .. in my enemies
**** ****a talk about don't kill me ..
I don't give a **** bitch i'm never scared
Bitch i'm in the .. i put the money on your head
SOG this the ****ing ..shot to ym ****a you're the ..
Post up bitch like a mother f*cker .. on ym neck soldier boy ..
**** ass ****as know that i'ma .. came out the water like motha ..delphin
Go .. haters off me , a million dollar cash .. day bitch i'm ..
Soldier boy tell your girl game is also ..
Pull up to the .. i win a fortune bitch i'm not a ..but i know the future
.. boy the seven ..like computers
**** ****a is hating boy like a distance
K boy sevenly is host barely missing
Can't around like a .. with the mother f*cking animals
Distant last crown SOD or G ..is going down
I put that on God ..and not go .. riding ..
..pull on to the trap and you know i'm flipping
.. em tallin on that new f*ck what you heard ..of the century
Featured Artist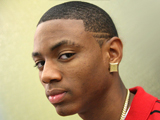 The music video for Soulja Boy Tell'em's single The Last Crown (Intro) has already been viewed 5,355 times since it was posted on Sunday, September 4, 2011. The video belongs to the music genre of Hip-Hop.
Top 10 Hip-Hop Music Videos
Most Popular Hip-Hop Artists