Watch the Two Wheels video below in all its glory and check out the lyrics section if you like to learn the words or just want to sing along.
Tell us if you like it by leaving a comment below and please remember to show your support by sharing it with your family and friends and purchasing Wax's music.
Lyrics to Two Wheels by Wax

[Intro]
I'm just riding through the valley on my bicycle
Just pedalin' pedalin' pedalin' pedalin' pedalin' along
I'm heading to the studio by Sherman and Coldwater
And when I get there I'm gonna sing this song

[Hook]
I'm gonna sing oh yeah, oh-my-my
I don't give a **** about a DUI
You can take away my license
But you can't take away my pride
I'm singing oh yeah, Oh-my-my
I'm a keep drinking until the day I die
Two wheels is the way I ride

[Verse 1]
I got my backpack strapped on my back real tight
Inside of it got a cord and a mic
And a couple tall cans, coors and bud light
That I found in my refrigerator drawer from the night before
I take flight out the door with my bike
Its such a californian sight
Small breeze got the palm trees swaying back and forth in the light
Melodies in my head im gonna record em' the night man
I start pedalin' I start smilin'
I'm in the bike lane freestylin'
I make a quick pit stop on the corner
To pet a little dog and chat with its owner
It's the type of day you just can't feel bad
The same type of day Ice Cube once had
Trying to make it to the lab but I don't pedal fast
I sit back and watch as the rose pedals pass

[Hook]

[Verse 2]
Cruising down Sherman a couple blocks left
Rhymes in my head and they're all kinda' deaf
Man, I can't wait to lay em down but my first venture
Is to the store for a couple more thirst quenchers
I pick em up and then add them to the contents
Of my heavy ass bag then I paddle fast no nonsense
Hit the studio with no delayin'
I give a dap to my homie Bailey on the way in
I start drinkin' I start recordin'
Three hours later I'm out the damn door again
Gotta pedal to the store again
I'm feeling festive this require captain morgan
Another bike ride, staring at a night sky
Trying not to swerve cars fly right by
I stay fresh like ****ing bag salad
And I don't give a damn if my license ain't valid

[Hook x4]
Featured Artist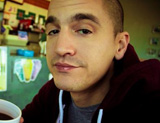 The music video for Wax's single Two Wheels has already been viewed 8,499 times since it was posted on Saturday, July 9, 2011. The video belongs to the music genre of Hip-Hop.
Top 10 Hip-Hop Music Videos
Most Popular Hip-Hop Artists